It's Done
Monday, March 28, 2005
WOW! What a weekend! On Saturday, I had to entertain the BF's out-of-town relatives. They wanted to go to Malacca and so we went, the four of us. I was looking forward to the trip as I haven't been back there in absolutely AGES, which is a pity since I was born there. One of my earliest memory as a wee young lass was chicken rice balls and I was looking forward to consuming it again. Sadly, the food didn't live up to my memory of it. I much, MUCH prefer normal chicken rice. Still, we had fun, walking along Yonker Street in the rain, having a peek at all the curious items for sale and basically doing the touristy thingy.

However, despite all the things we were doing, I couldn't WAIT to get back home as you see, I am an obsessed knitter. I was down to the final bits of my
COZY
and I couldn't wait to finish it. Whilst making polite chit-chatter with the relatives in the car on the way there, I was kicking myself that I didn't bring it along. I could have easily squeezed in about 2 hours of knitting time in the journey to and from Malacca!
So I thought, never mind, will finish it on Sunday. However, the powers that be were against me as well *sigh*. At 4.06 in the morning, I get a phone call from my mum screaming for me to get back to the family house. You see, they'd been to a social function, came back in the wee hours of the morning and one of our family dogs managed to escape the compound. As he, the dog, Lucky was much beloved by the patriarch of the family, he took it upon himself to go looking for Lucky and somehow managed to fall into the rather large drain outside of the family home. So it was a panic type situation. The BF (bless his kind soul) and myself got to the family home in record time to find the patriarch on the floor, bleeding and in obvious pain. The ambulance hadn't arrived so somehow, we managed to get him to the local hospital. Thankfully, nothing was dislocated or broken. Just a few minor cuts and major bruises. He somehow managed to hurt his spine but it is nothing that a few trips to the physiotherapist won't fix.
So, after rushing him to the hospital and admitting him, we came back at around 6.30 and fell asleep but my knitting was still foremost in my mind. I had about 1/8th of my final ball left. I woke up dreaming of finishing my Cozy and I did! Got up a few hours later and knitted till my hearts content. I finished it! I finished it! I finished it! Took me 15 days to complete it and I've finished it... well, almost. It doesn't look like what it is supposed to look though *sigh* but I am somewhat happy with the final product, even though it is about 5" short of what the pattern requires and is rather heavy (used 5 x 100g balls of yarn).

I haven't weaved in the ends or blocked it yet as I have no idea how to do it but I will be digging out my knitting books for instructions. The BF claims that it looks like a very nice granny shawl *humph* but I hope my friend likes it (it is a birthday pressie for a good friend of mine). It is supposed to look like this::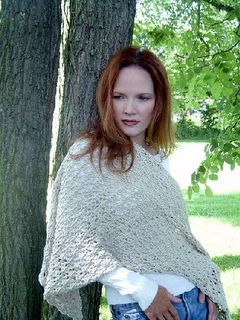 So, next on the needles... well, I've decided to join in a knit along with two other members of the
KL Knitting Meetup Group
and we are going to be using Rowan's Kidsilk Haze. We are going to be knitting the
Kiri Shawl
. This is going to be interesting as the yarn reminds me of very fine thread. I don't know how this is going to turn out for me but it will be a great challenge.
I don't understand half of the pattern but the the gals in this knit along,
Doreen
and
Laura
have promised to help me out. I can't wait!! I thought that this shawl would make a lovely birthday pressie for my aunt who introduced my to my BF almost two years ago, on her birthday no less.
Also in the pipeline is a
Knitted Ripple Shaw
for my sister. I shouldn't have any dramas with this one as it looks rather easy. And I still have to finish my hodge podge blankie! After that, I'll look for other projects for MYSELF. I'll be living in NZ for a while, going there in the middle of winter and I have no winter clothes!
8:51 am ::


::
1 Comments:
Knittin Gal
::
permalink